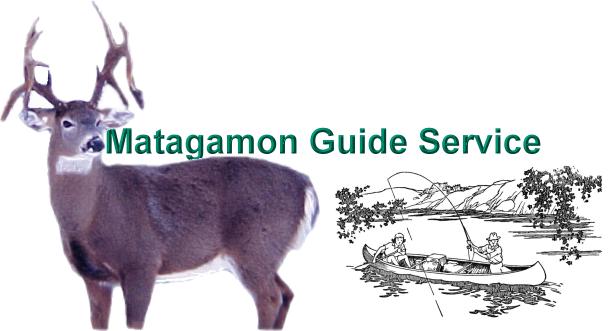 Deer Hunting at Matagamon Guide Service
Matagamon Guide Service is located in northern Penobscot County, west of Patten. We hunt Penobscot, Piscataquis and southern Aroostook counties. We specialize in trophy deer, bear and moose hunts.

Our bucks run large, many dressing out over 200 lbs., largest approaching 300 lbs. We specialize in trophy buck hunts only. Our trophy hunt is a one on one, 7 - day hunt. Limit 2 hunters weekly. The hunt includes camp with cooking facilities, all transportation, 4x4, snowmobiles, boats etc. All hunts run Sunday to Sunday unless arranged differently. Each hunter has his own guide, and should be in good physical condition. Seasons run four weeks in November + one week black powder in December for firearm. We are located in excellent deer country, with possibility of snow at any time of the season. Certainly, from the third week on, you would normally would have snow to track on. I personally have 4 bucks in the Maine Antler and Skull Club. Our hunt can be fairly strenuous, depending on conditions, each hunter will be provided with information before the hunt, as to items to bring and what to expect on the hunt. You will be kept up to date on weather conditions before you arrive and what to expect when you get here.
Home || Moose Hunting || Fishing
Rates || Contact || Trophy Room
All rights reserved© 2004 Matagamon Guide Service